Come Discover the
Love and Mercy of God All Are Welcome
The Church of Saint John and Saint Mary




Chappaqua, N.Y.

10514








The Upper Church & Parish Center
30 Poillon Drive Chappaqua, NY 10514
Reverend Edward P. O'Halloran
Pastor
The Little Church
15 St. John's Place Chappaqua, NY 10514
The Last Supper, Da Vinci, 15th Century
"Master Be Still" from "Journey of the Lamb" Album
-
Written and Sung by Parishioner and Bible Study Head Allyson Harasimowicz
Mass Schedule
Saturday Vigil Mass:
5:15 pm in the Upper Church
Sunday Masses:
7:30 am in the Little Church
10 am in the Upper Church
12 Noon in the Upper Church
Daily Mass Monday - Friday
8:30 am in the Upper Church
Confession
Saturday at 4:30 pm
in the Upper Church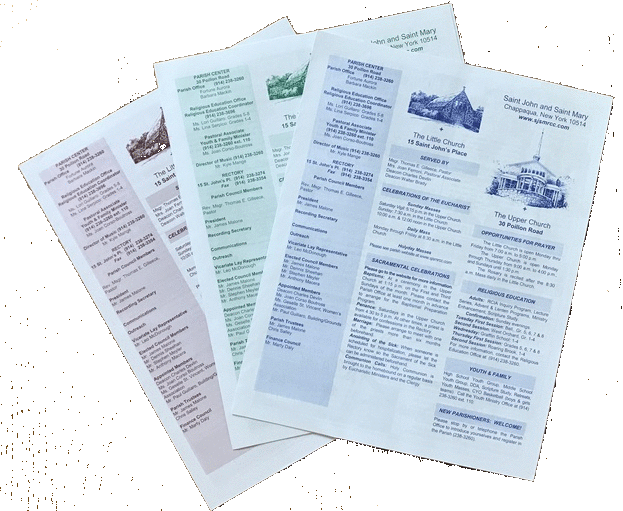 Please visit here for this week's SJSM bulletin and the accompanying archive.
© 2018 The Church of Saint John and Saint Mary in Chappaqua
We are the people of Saint John and Saint Mary in Chappaqua, New York, of diverse backgrounds and
ethnic origins united by God, formed by the Gospels, strengthened by the sacraments and the teachings
of the Catholic Church.
​
We seek to deepen our personal union with Jesus Christ and to grow as a Faith Community. We seek to
enrich our heritage of care and concern for all by sharing God's love and healing to the world around us.
​
Guided by the Holy Spirit, we pledge ourselves to pursue this mission by participating in the liturgical,
educational, and social ministries of the Church. We recognize that to be effective, these ministries require
spiritual, physical, and financial resources and that we accept our responsibility as Christian stewards
to provide them so that the Gospel message will be spread to the edges of the world.

We participate in the Archdiocese of New York's Safe Environment Program.
Please click here to learn more: