Come Discover the
Love and Mercy of God All Are Welcome
The Church of Saint John and Saint Mary




Chappaqua, N.Y.

10514








The Upper Church & Parish Center
30 Poillon Drive Chappaqua, NY 10514
Reverend Edward P. O'Halloran
Pastor
The Little Church
15 St. John's Place Chappaqua, NY 10514
A Warm Welcome
to all of our

New Parishioners!

New Parishioner Registration Form
Covid19 Update From The Pastor's Desk June 6, 2021
The Last Supper, Da Vinci, 15th Century
Saturday Vigil Mass Sunday Masses Daily Mass
5:15 PM 7:30 AM, 10 AM, 12 Noon Mon. - Fri. @ 8:30 AM
​
SATURDAY CONFESSION
Saturday 4 - 5 PM
"Master Be Still" from "Journey of the Lamb" Album
-
Written and Sung by Parishioner and Bible Study Head Allyson Harasimowicz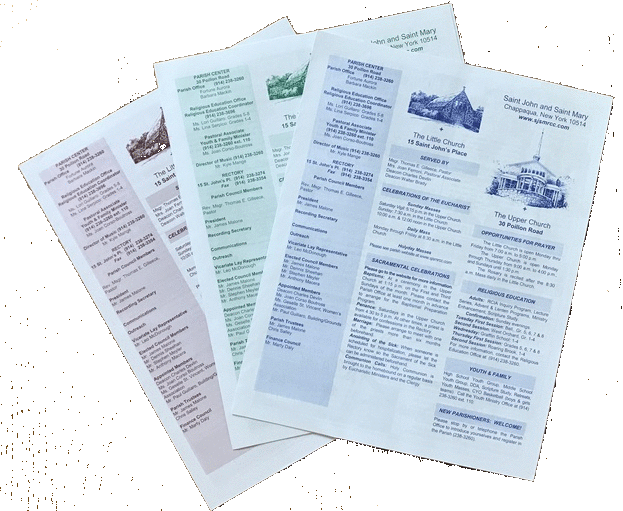 © 2018 The Church of Saint John and Saint Mary in Chappaqua
Catholic Youth Organization (CYO)
PARISH MEMBERS
WALK-IN REGISTRATION
SEPTEMBER 12, 2021
from 1 PM - 4 PM
RETURNING/NEW Non-Parish Community Players
Walk-In Registration SEPTEMBER 27, 2021

FEES ARE NON REFUNDABLE AFTER Nov. 1, 2021
NO FAXED/EMAILED FORMS WILL BE ACCEPTED.
​
Please find pertinent SJSM CYO enrollment information here:
In order for our Parish CYO Program to cover the rising costs of the Westchester CYO League, Referee Fees and Gym Fees, changes to the number of teams and players per team are required, and the registration fee is now $400.00 per child.
Please be advised:
​
Practice schedules and game schedules cannot be given until rosters are complete and
submitted to the Westchester CYO League. However, practice is once a week at Chapp. School Gyms and the Harvey School, with games played on the weekends. Away games are played at parishes throughout Westchester Co. Families will be contacted directly regarding the team roster and practice times.
​
All CYO teams, Grades 3-8 must have a minimum of 10 players to participate as a parish team.
Up to 3 community members may join the team. ​
Third grade and "New Team" rosters will "close" once 12 players have registered. All remaining applications will be placed on a waiting list. Additional teams for a particular grade that meet the
above requirement with a minimum of 10 players per team may be formed permitting additional gym
time.
The CYO Fee of $400.00 per player will be collected at the time of registration. NO REFUNDS will be given unless a team is dropped due to lack of players or in the event that your child cannot attend the assigned practice schedule you must immediately notify the Coach and Joan Corso Bourtross by email jcboutross@sjsmrcc.com if a refund is needed.
NO REFUNDS WILL BE GIVEN AFTER THE FIRST PRACTICE.
​
Please note that the fee will cover the cost of uniforms but NOT optional tournaments. The number of tournaments played is a decision made by the team coach and team parents. All fees for the tournaments will be collected and paid directly by the team.
Please click here for more information: