Come Discover the
Love and Mercy of God All Are Welcome
The Church of Saint John and Saint Mary




Chappaqua, N.Y.

10514








The Upper Church & Parish Center
30 Poillon Drive Chappaqua, NY 10514
Reverend Edward P. O'Halloran
Pastor
The Little Church
15 St. John's Place Chappaqua, NY 10514
Saturday Vigil Mass Sunday Masses Daily Mass
5:15 PM 7:30 AM, 10 AM, 12 Noon Mon. - Fri. @ 8:30 AM
​
SATURDAY CONFESSION
Saturday 4 - 5 PM
The Last Supper, Da Vinci, 15th Century
"Master Be Still" from "Journey of the Lamb" Album
-
Written and Sung by Parishioner and Bible Study Head Allyson Harasimowicz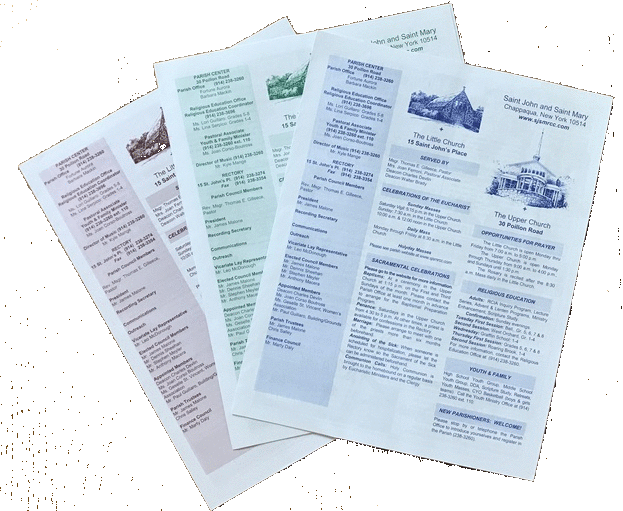 Please visit here for this week's SJSM bulletin and the accompanying archive.
© 2018 The Church of Saint John and Saint Mary in Chappaqua
7th - 8th Grade & HS. Youth Group
Thank you to our 7th & 8th Grade Youth Group for helping to make our
Christmas Fair Fundraiser so delicious. . .
See you at our next meeting!
Please join our 7th & 8th Grade Youth Group, which meets on Wednesdays from 4:45 – 5:45 pm.
Pizza, snacks, friends and fellowship are our recurring themes!
​
Parish 7th & 8th Grade Youth Group, 2019 - 20 Event Calendar:
​
Date Event
​
Oct 23 Fall Festival
Nov 20 Thanksgiving Bake-Off
Dec 4 Ultimate Chocolate Factory
Jan 15 Snack Pack
Feb 12 We're All Heart!
March 18 Lenten Pretzel
​
​
We welcome with fanfare our
"God Squad" sweatshirt and
sweatpant ensemble, designed by
SJSM's award-winning Youth Group.
See you here where we wear our
Roman Catholic Faith on our sleeves. . .
HIGH SCHOOL YOUTH GROUP
2019-20 Calendar
A CYFM "Bonaventure Award" was recently bestowed on our Youth Group for program excellence. Received by Joan Corso Boutross, the award is dedicated to our outstanding young people and their Roman Catholic spiritual journey.
Please click below to open documents.