Come Discover the
Love and Mercy of God All Are Welcome
The Church of Saint John and Saint Mary




Chappaqua, N.Y.

10514








The Upper Church & Parish Center
30 Poillon Drive Chappaqua, NY 10514
Reverend Edward P. O'Halloran
Pastor
The Little Church
15 St. John's Place Chappaqua, NY 10514
The Last Supper, Da Vinci, 15th Century
"Master Be Still" from "Journey of the Lamb" Album
-
Written and Sung by Parishioner and Bible Study Head Allyson Harasimowicz
Mass Schedule
Saturday Vigil Mass:
5:15 pm in the Upper Church
Sunday Masses:
7:30 am in the Little Church
10 am in the Upper Church
12 Noon in the Upper Church
Daily Mass Monday - Friday
8:30 am in the Upper Church
Confession
Saturday at 4:30 pm
in the Upper Church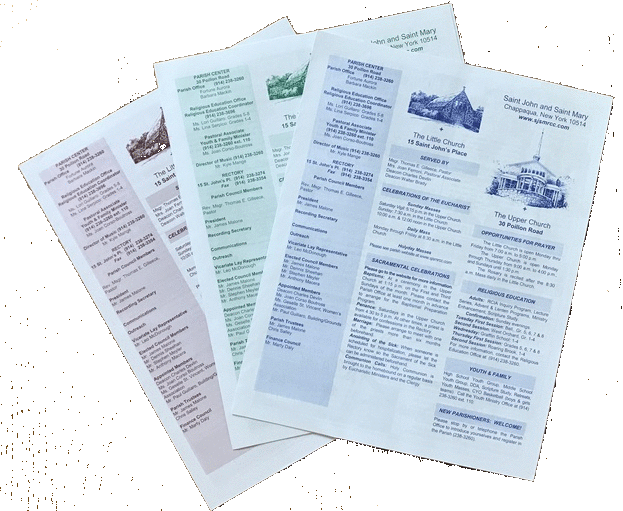 Please visit here for this week's SJSM bulletin and the accompanying archive.
© 2018 The Church of Saint John and Saint Mary in Chappaqua
When someone is scheduled for hospitalization, please let the Rectory know so that the Sacrament of the Sick can be administered beforehand
Contact the Rectory at 914 238 3260.
​
Mass of the Anointing
Easter Season 2022 - TBA
Who should receive the Sacrament?
The Anointing of the Sick "is not a sacrament for only those who are at the point of death".
Hence, as soon as anyone of the faithful begins to be in danger of death from sickness or old age, the fitting time for her/him to receive the sacrament has certainly already arrived. If a sick person who received this anointing recovers her/his health, she/he can, in the case of another illness receive this sacrament again. If during the same illness the person's condition becomes more serious, the sacrament may be repeated. It is fitting to receive the Anointing of the Sick just prior to a serious operation or for elderly whose frailty becomes more pronounced.
"Through This Holy Anointing
May the Lord in His Love
Free You From Sin, Save You And Raise You Up."