Come Discover the
Love and Mercy of God All Are Welcome
The Church of Saint John and Saint Mary




Chappaqua, N.Y.

10514








The Upper Church & Parish Center
30 Poillon Drive Chappaqua, NY 10514
Reverend Edward P. O'Halloran
Pastor
The Little Church
15 St. John's Place Chappaqua, NY 10514
The Last Supper, Da Vinci, 15th Century
"Master Be Still" from "Journey of the Lamb" Album
-
Written and Sung by Parishioner and Bible Study Head Allyson Harasimowicz
Mass Schedule
Saturday Vigil Mass:
5:15 pm in the Upper Church
Sunday Masses:
7:30 am in the Little Church
10 am in the Upper Church
12 Noon in the Upper Church
Daily Mass Monday - Friday
8:30 am in the Upper Church
Confession
Saturday at 4:30 pm
in the Upper Church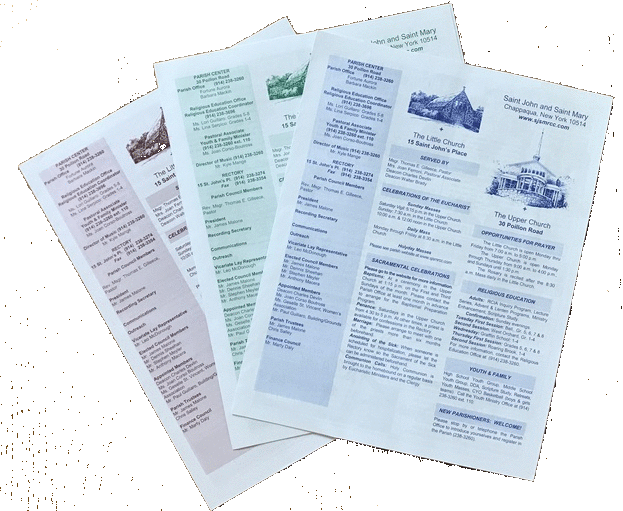 Please visit here for this week's SJSM bulletin and the accompanying archive.
© 2018 The Church of Saint John and Saint Mary in Chappaqua
Dear 9th Grade Confirmation Families,
Welcome to the Confirmation Program! Please find additional documents of welcome below. The sacramental fee for the Confirmation Program includes the cost of the retreat, transportation for outreach programs during the school year, class materials, Confirmation gown rentals, reception and special music program. The fee is $200.00. Please make checks payable to SJSM.
Parents/Guardians AND Students
Orientation Meeting
Sunday, October 31, 2021
11 AM - 1 PM
SJSM Upper Church
The orientation meeting will explain the Confirmation requirements, needed documents, class schedule, and opportunities for outreach and H.S. Youth Group activities. Your Child will be formally enrolled into the Confirmation Program during the 12 Noon Mass.
Parents and students are to attend the Orientation and Mass together. All family members are welcome to attend.
We thank you for your continued support and ask for your prayers as we begin the Confirmation Journey.
​
If you have any questions, please contact Joan Corso Boutross:
Call: 914 238 3260 or email at: jcboutross@sjsmrcc.com