Come Discover the
Love and Mercy of God All Are Welcome
The Church of Saint John and Saint Mary




Chappaqua, N.Y.

10514








The Upper Church & Parish Center
30 Poillon Drive Chappaqua, NY 10514
Reverend Edward P. O'Halloran
Pastor
The Little Church
15 St. John's Place Chappaqua, NY 10514
A Warm Welcome
to all of our

New Parishioners!

New Parishioner Registration Form
Covid19 Update From The Pastor's Desk June 6, 2021
The Last Supper, Da Vinci, 15th Century
Saturday Vigil Mass Sunday Masses Daily Mass
5:15 PM 7:30 AM, 10 AM, 12 Noon Mon. - Fri. @ 8:30 AM
​
SATURDAY CONFESSION
Saturday 4 - 5 PM
"Master Be Still" from "Journey of the Lamb" Album
-
Written and Sung by Parishioner and Bible Study Head Allyson Harasimowicz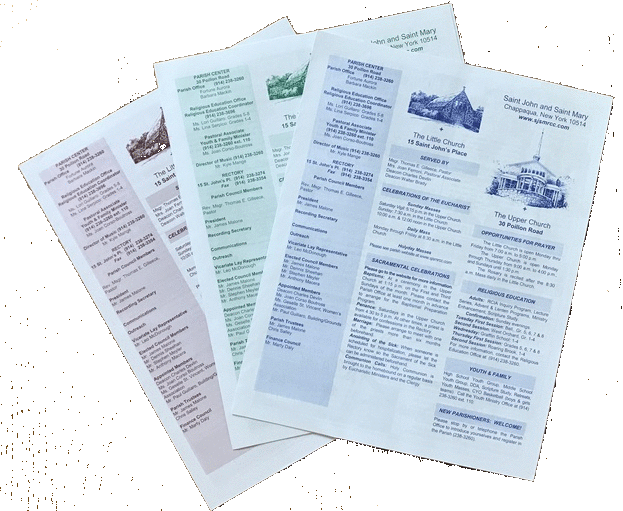 © 2018 The Church of Saint John and Saint Mary in Chappaqua
Women's Association. . . About Us
An April 2011 Letter from our Monsignor Gilleece
regarding the work of the SJSM Women's Association for over 50 years.
Dear Sisters and Brothers in the Lord,
I wish to extend my congratulations and express my prayerful best wishes to all the members of The Church of Saint John and Saint Mary's Women's Association on the occasion of their Fiftieth Anniversary. The Association has been a blessing in countless ways to the parish community for which I am deeply grateful.
Throughout its history, The Church of Saint John and Saint Mary's Women's Association has been a great source of inspiration and hope to the people of our parish. The Association has been a genuine example of Christ's Love in Action through the selfless acts of kindness and generosity that have been quietly and gently shared with those in need. Over the past fifty years, thousands of lives have been touched and transformed through the Association's tireless good works, support, and prayer.
The Association's many traditions such as the Annual Christmas Fair Fundraiser, Special Masses, dinners and luncheons, outreach to the needy, and fundraising have been an integral part of our parish life. The commitment of so many women to share their leadership, ingenuity, creativity, energy, time, and talent are what makes this Association so vibrant and alive. The fellowship and bonds of friendship that have formed over the years are what makes the Women's Association a community woven in faith and love.
Saint Paul tells us in his first letter to the Corinthians that when one part of the body suffers, the whole body suffers; and, conversely, when one part of the body is honored, the whole body is honored. This Anniversary of the Church of Saint John and Saint Mary's Women's Association is an opportunity for each of us to share the joy and honor of fifty years of devotion, commitment, and service to building the Kingdom of God.
Congratulations and I thank you for your goodness, your generosity, and your faithfulness to the Gospel of our Risen Lord, Jesus Christ.
Sincerely in the Lord,
Rev. Msrg. Thomas E. Gilleece
Pastor