Come Discover the
Love and Mercy of God All Are Welcome
The Church of Saint John and Saint Mary




Chappaqua, N.Y.

10514








The Upper Church & Parish Center
30 Poillon Drive Chappaqua, NY 10514
Reverend Edward P. O'Halloran
Pastor
The Little Church
15 St. John's Place Chappaqua, NY 10514
A Warm Welcome
to all of our

New Parishioners!

New Parishioner Registration Form
Covid19 Update From The Pastor's Desk June 6, 2021
The Last Supper, Da Vinci, 15th Century
Saturday Vigil Mass Sunday Masses Daily Mass
5:15 PM 7:30 AM, 10 AM, 12 Noon Mon. - Fri. @ 8:30 AM
​
SATURDAY CONFESSION
Saturday 4 - 5 PM
"Master Be Still" from "Journey of the Lamb" Album
-
Written and Sung by Parishioner and Bible Study Head Allyson Harasimowicz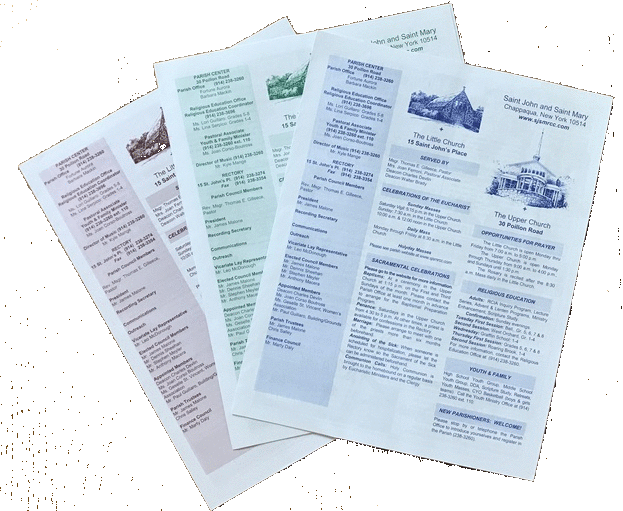 © 2018 The Church of Saint John and Saint Mary in Chappaqua
Father Beck's Interview with Vanessa Williams
at the Sheen Center of NYC
"(We are) a forum to highlight the true, the good, and the beautiful as they have been expressed throughout the ages. . .
We are a a special project of the Archdiocese of New York, designed to inspire Catholics and non-Catholics alike. Whether through a play, a painting, a film, or a talk, we aim to give you a real shot in the arm that's profoundly human. . .
(We have) quickly become an oasis amidst Manhattan's crowded cultural landscape, an innately positive place where Fulton Sheen's mantra, 'Life is Worth Living,' is at the core of all our programming."
- Sheen Center for Thought and Culture
​
This September 9 at 7:30 pm within the Loreto Theatre, please consider attending Father Beck's interview with our very own Vanessa Williams.
We are thrilled to think our Catholic constellation includes these stars.