Come Discover the
Love and Mercy of God All Are Welcome
The Church of Saint John and Saint Mary




Chappaqua, N.Y.

10514








The Upper Church & Parish Center
30 Poillon Drive Chappaqua, NY 10514
Reverend Edward P. O'Halloran
Pastor
The Little Church
15 St. John's Place Chappaqua, NY 10514
A Warm Welcome
to all of our

New Parishioners!

New Parishioner Registration Form
Covid19 Update From The Pastor's Desk June 6, 2021
The Last Supper, Da Vinci, 15th Century
Saturday Vigil Mass Sunday Masses Daily Mass
5:15 PM 7:30 AM, 10 AM, 12 Noon Mon. - Fri. @ 8:30 AM
​
SATURDAY CONFESSION
Saturday 4 - 5 PM
"Master Be Still" from "Journey of the Lamb" Album
-
Written and Sung by Parishioner and Bible Study Head Allyson Harasimowicz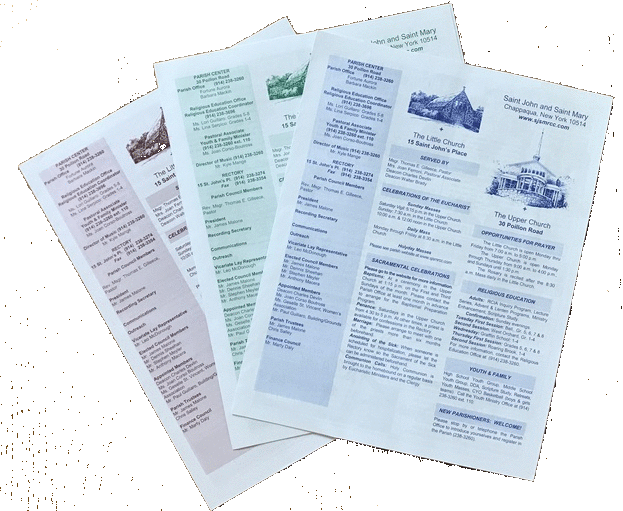 © 2018 The Church of Saint John and Saint Mary in Chappaqua
Please read this special letter from Monsignor Gilleece:
Up to $6,000
​
$7,000 - $15,000
​
$16,000 - $25,000
​
$26,000 - $55,000
​
Above $60,000
Centennial Friend
​
Centennial Bronze
​
Centennial Silver
​
Centennial Gold
​
Centennial Platinum
​
The Generosity of our Parishoners will be forever memorialized on Permanent Plaques to be displayed in the Vestibule of the Upper Church in the following fashion:
Be sure to make your pledge through:
We are radiant with the good news that our Renew and Rebuild Campaign progresses, yet only does so with your participation.