Church of Saint John and Saint Mary
Women's Association
2020 Annual
Patron, Benefactor, Sponsor
BPS
Parish Fundraiser
NOW in PROGRESS
Ash Wednesday Masses
8:30 AM - Little Church
4 PM and 7:30 PM - Upper Church
Ashes will be distributed during each Mass.
​
The Last Supper, Da Vinci, 15th Century
"Master Be Still" from "Journey of the Lamb" Album
-
Written and Sung by Parishioner and Bible Study Head Allyson Harasimowicz
00:00
/
00:00
Saturday Vigil

Mass
5:15 PM in the Upper Church
Sunday Masses
7:30 AM in the Little Church
10:00 AM in the Upper Church
12 Noon in the Upper Church
​
Daily Mass, Monday - Friday
8:30 AM in the Little Church
Saturday Sacrament of Reconciliation
4:30 - 5:00 PM in the Upper Church
Click to Discover
Holy Day Masses, Youth & Children Masses, Special Masses
​
​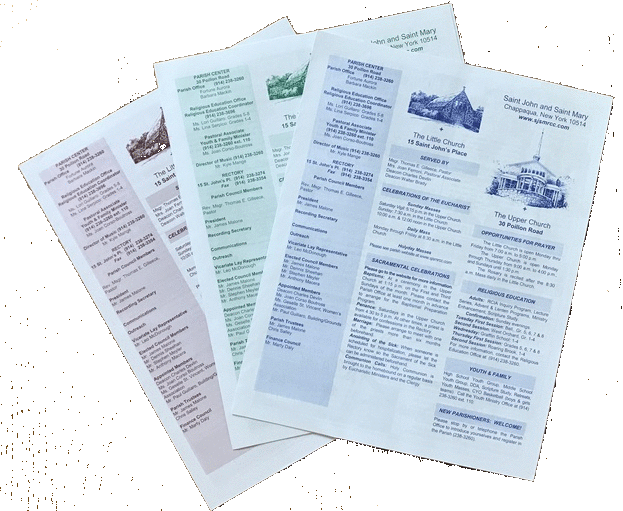 Dear Parishoners of Saint John and Saint Mary,
​
Faith. . . fellowship. . . joining the flock through technology.
Make sure to sign for Flocknote in the box below so as to receive emails and/or texts regarding:
​
Parish Alerts
Weather Alerts
Event Updates
Ministry Updates
​
Read the story of how this Catholic platform came to be. We look forward to seeing you in the greener pastures of improved communication.
​
- Saint John and Saint Mary Administration
​
​
Many Thanks to ALL
for Supporting our
Women's Association Christmas Fair Fundraiser
© 2018 The Church of Saint John and Saint Mary in Chappaqua